Special Offer
Now through Dec 23rd, Spirit and Body Massage  Gift Certificates come packaged with gift bag, tissue and extras for only $5!
We understand that you want to put more than an envelope under the tree. This year, we are making shopping for your friends and family easy by offering gift wrapping.
Each Package will include (1) Gift Certificate for $30 or more, (1) white envelope, (1) Christmas card, (1) Bath Bomb, (1) Epson Salt container, and a few candy mints.
---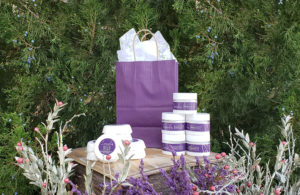 Spa Products
Lavender Bath Salts are homemade with the best pure and natural ingredients.  Add salts to your footbath or any soak for alleviating pain, reducing swelling, and increasing circulation. Enjoy the soothing aromatherapy of Lavender. Skin will feel soft and refreshed.
(Ingredients: Epson salt, almond oil, and lavender essential oil.)
Lavender Bath Bombs are homemade with the best pure and natural ingredients. Add bath bomb to your bath or bring it into your shower for a soothing lavender aroma. Bath bombs are good for your skin: they clean, deodorize, and repair skin while strengthening blood vessels. Skin will feel rejuvenated.
(Ingredients: Banking soda, cornstarch, Epson salt, citric acid, water, and lavender essential oil.)

Handmade Christmas Card
Each card is hand stamped with a raised silver metallic ink.  Designs are embellished with silver ribbon and crystals. Only quality purple cardstock is used.
Stamped Message: "Welcome Christmas into your heart"
---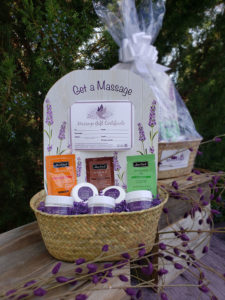 Gift Baskets are also available upon request for a small giftwrapping fee of $10.  All gift basket orders will be filled before December 21st for pickup.